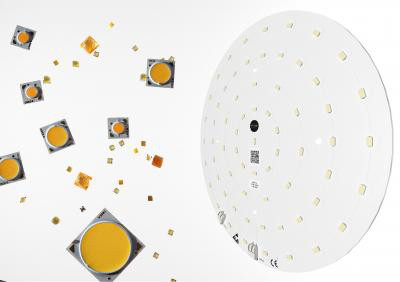 If you have followed the development of lighting-class LEDs over the last 10 years you will have undoubtedly witnessed an output race unfolding between the leading LED manufacturers. This competition has yielded ever increasing performance from higher power components that emit more light from a single package.
In parallel to the improvements in higher power LEDs there has also been significant innovation in the field of mid-power LED components.
Initially the advancements were focused on creating improved backlights, principally to serve the market for flat screen TVs, however, the development effort ultimately yielded mid-power LED technology that attained the performance, reliability and unit cost, thanks to benefiting for significant economies of scale, to be considered for use in lighting applications.
So when should you consider mid-power LEDs? Non-directional lighting applications, particularly those demanding a homogenous light output over a large illuminated area, are ideally suited to mid-power components. Such applications highlight the flexibility of being able to place relatively low-cost components over a large area, dispersing not only light sources but also heat sources, and in doing so enabling better thermal management of the LEDs and the delivery of a more optimal design for the LED light engine. It's important though to consider that every application should be treated on its merits, as there is no one-size-fits-all approach to cater for every nuance of a lighting application.
If you're a lighting manufacturer looking to consider a mid-power LED light source for your latest product development, please feel free to contact our technical sales team who will be more than happy to discuss how Forge  can help you realise the potential of the latest technology.